APCC is recognized by the City of Chicago as a Neighborhood Business Development Center (NBDC). As a delegate agency we serve as a liaison between local businesses in Albany Park and the City of Chicago, while providing critical neighborhood business development services. In this role, APCC serves as a catalyst for economic growth, assures a stable atmosphere among our many ethnic businesses, provides leadership for the business community, and connects businesses to larger, citywide technical assistance programs. Existing and start-up business owners may take advantage of our free business consultations, educational workshops, businesses to business networking (B2B) opportunities, consumer marketing assistance and more.
CITY OF CHICAGO RESOURCES
TIF & SBIF IN ALBANY PARK
Tax Increment Financing or TIF is a public financing tool used by the City of Chicago to increase public and private investment across the city. In short, TIF funds are generated from growth in the Equalized Assessed Valuation (EAV) of properties within a designated district over a 23-year period. The TIF funds that are generated through this process are reinvested to support economic development and/or public improvement projects in designated TIF Districts. Albany Park is home to The Lawrence/Kedzie TIF District
The Lawrence/Kedzie TIF is characterized by multi-family residential buildings, mixed-use commercial properties, and numerous institutional and open space sites in the North Park and Albany Park communities. Project priorities in this area include new and rehabilitated commercial projects, rehabilitation of existing residential properties, the replacement of obsolete commercial and industrial buildings, enhanced off-street parking, facade improvements along shopping corridors and more.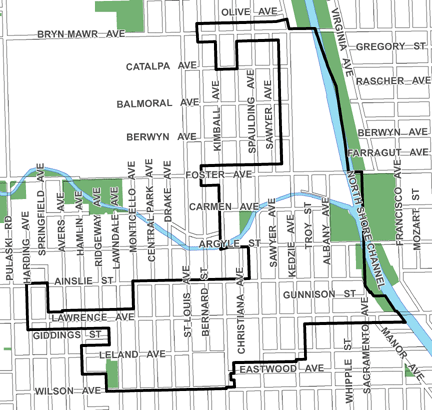 The Small Business Improvement Fund (SBIF) program uses TIF revenues to help owners of commercial and industrial properties within TIF districts to repair or remodel their facilities for their own business or on behalf of tenants. Program participants can apply to receive grants to cover between 25% percent and 75% of the cost of remodeling work, with a maximum grant of $100,000 for commercial properties and $150,000 for industrial properties. If awarded, grant funds administered by SomerCor the City's behalf, do not have to be repaid.
​
Projects that qualify for SBIF reimbursement:
​
Facade repair and replacement

Permanent interior renovations and build out

New windows, floors or roof

New heating, ventilation and air conditioning

Plumbing

Electrical

Improvements to accommodate disabled patrons or workers

Purchase of adjacent property for building expansion or parking

Project-related design and construction fees
​